---
Aberdeenshire and Angus
---
Burnside Brewery is located in Laurencekirk, South Aberdeenshire, between the Cairngorm Mountains and the North Sea. Our ethos is natural, easy-drinking beers, using local ingredients where possible. When we're crafting our beers, we take inspiration from the beautiful Scottish countryside. So, it's no surprise that we also love to explore (and usually take a beer or two along for the trip).
Here are just some of our favourite walks and places to visit in Aberdeenshire and Angus:
Burn O' Vat
There aren't many places you can climb through a rocky opening to find a waterfall , but that's exactly what's on offer at Burn O' Vat- find the route here. It's a geological marvel, with a visitor centre to tell you all about it. Just make sure you're wearing waterproof shoes!
After you've scrambled over the waterfall, you could even stop at Deeside Activity Park. Here you can try clay pigeon shooting, quad-biking, archery, kart racing and fly shooting, to name just a few of the things they offer. Their farmshop even stocks Burnside Beer!
Be sure to also pop into Strachan's of Deeside in Aboyne or Ballater to find the full range of our naturally refreshing beers, along with a great selection of local produce. You could grab some Thirst Aid, our charity beer that raises money for Aberdeen Mountain Rescue Team there - the perfect fit after you've explored the Cairngorms yourself.
---
Inverbervie to Johnshaven
East from the brewery is a beautiful linear coastal walk - find the route here. It passes through idyllic coastal villages, where you'll find working harbours and piles of lobster pots.
You could start or finish at the Queen's Arms, Inverbervie, where you'll find Burnside on tap. The walk also passes through Gourdon, where you can stop off for a pint at the stunning Harbour Bar's beer garden and try some of their delicious fish and chips, made with our Wulver lager.
When you reach Johnshaven, you could pick up a lobster or crab roll at the Johnshaven Lobster Shop. Then, sit in the sunshine with it on the bench they have outside, just by the sea. If you've popped into Gourdon Shop or Johnshaven stores on your walk, you could even enjoy it with one of our beers!
---
Clachnaben
Just over the Cairn O'Mount from the brewery is Clachnaben, a hill with a superb viewpoint from the top - find the route here.
When you're at Clachnaben, the walk takes you through beautiful woods, across a couple of small bridges and up towards the hill. The top has large rocks for you to scramble onto, but whether you want to try this or not, you will be able to see across Aberdeenshire.
After the hike, why not visit Finzean Farm Shop or the Strong Water Co, Banchory, to pick up your Burnside post adventure pints? Both of these have an amazing selection of produce. Finzean Farm shop even has a cafe for you to rest your weary legs at after your hike!
---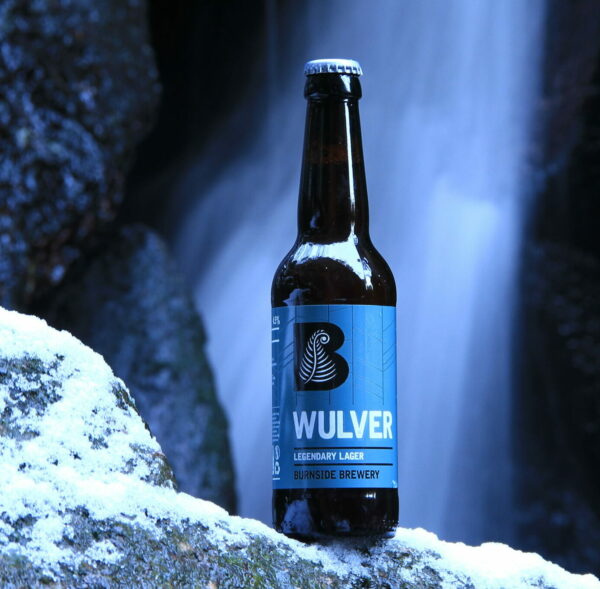 Rocks of Solitude
Also known as the 'Blue Door Walk', this walk takes you through (you guessed it) a blue door in a wall to find incredible rock formations. These are located in a gorge on the River Esk - find the route here.
You may also fancy a round of golf at beautiful Edzell Golf Club, where you can often find our beer on their real ale taps.
Afterwards, you could stop at Scot's Corner, in Luthermuir, where you can get a freshly poured pint of Wulver, our lager, and sit in their pub garden.
You could also try Balmakewan, with their delicious food, shop and deli (including our beers!). There are lovely walks around their grounds too.
---
Cairn O' Mount
The Cairn O' Mount is the steep mountain path that leads from the brewery to Deeside - a route that we take regularly for deliveries. It's infamous amongst cyclists for it's steep gradients, but the view from the top is undeniably stunning.  It was even chosen to be included in the last leg of the Tour of Britain, 2021. From the peak, you can see to the North Sea in one direction and across to the Cairngorms in the other.
Once you've been up there, you could pop into our brewery shop or the beautiful Fettery Shoppe to pick up some of our beers. You'd definitely have to try Steep Grade, our barrel-aged beer at 14%, inspired by the steep gradient of the Cairn O' Mount. This is aged in Fettercairn ex-whisky, ex-rum barrels to give an unrivalled depth of flavour.
Fettercairn distillery is another great place to visit and at just 6 miles from the brewery in Laurencekirk, is our closest. You can book onto tours and try their delicious whiskies in their tasting room.